BREAK THE BANK MEGASPIN

(This slot is available at all MICROGAMING Casinos.)
With four slots-within-a-slot, the online casino game captures all the suspense and exhilaration as implied by the name. This multi slot delights players in a richly themed combination of Scatters and generous Free Spins with significant multipliers. Key features of the game are the title logo which acts as a wild and not only functions as a substitute for all the other symbols on the reels, with the exception of the Vault, but has the potential to proliferate winnings up to an awe-inspiring 5x, as well as the up to 25 multiplier on line bets made during the free spin feature.
THE GRAND JOURNEY

(This slot is available at all MICROGAMING Casinos.)
This epic journey is encapsulated by the 5 Reel, 30 Payline Video Slot online casino game, with stacked Wild substitutes, a Free Spins feature with Multiplier Trail, as well as an expanding Wild on reel 3. The Grand Journey brings together the allure of modern gaming technology with the legend and adventure of the exploration of the lands synonymous with the feral. While valiant men have swung across jackpot vines and bonus branches in a quest for thrills and riches, a true to life jungle adventure is recreated right in front of your very eyes in this exciting and entertaining video slot!
CompleteCasinoList Score: Pretty nice slot from Microgaming. The feature can pay well but it can also be very annoying if you get 10X bet and win just a little on that one.

CompleteCasinoList Score: Break da bank with
4 slots in one. This one is quite nice, but our bankroll
went very fast when playing this. This can pay out a lot or you can loose a lot. Its possible to win 100 free spins..well is it? You try!


Click on Santa for XMAS 2013
Bonuses and FreeSpins!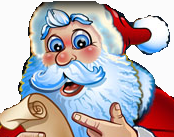 THE GREAT GRIFFIN
(This slot is available at all MICROGAMING Casinos.)

The imaginative graphics depict a host of sorcerer's tools such as magic crystals, spell books, potion flasks and mysterious plants and roots, along with the hooded lady of the castle and of course the majestic and legendary griffin itself.

This is a game that has everything - Wilds, Extra Wilds, Scatters, Multipliers, Free Spins and great bonuses in an entertaining and interactive package that offers multiple and varied opportunities to score.
CompleteCasinoList Score: You can win 5x10,
10x5 or 15x3 free spins (your choice). Also a PICK ME feature which pays pretty well. Usually between 10x-50x bet. The griffin animation that appears almost every second spin can be really annoying. If it hadnt been for this annoying animation we could have given this one a 5
ATOMIC8S
(This slot is available at all MICROGAMING Casinos.)

Power Spins ™ Atomic 8s is another addition to an explosive new range of slots that feature Power SpinsTM, an innovative option for you which increases the excitement and opportunities for reward, playing the maximum number of lines for an additional wager of three-times the original bet.

To activate Power Spin, simply click on the 'power' button at the bottom right of your screen.
Atomic 8s Slot Machine

CompleteCasinoList Score: OK, no features which makes it a little boring. The power spins can pay well sometimes.


OLE KING COLE
(This slot is available at all MICROGAMING Casinos.)

Old King Cole is a modern slant on the classic rhyme, bearing great gifts to the fortunate.

With free spins, multipliers and a great gamble feature, this slot is not to be missed.

CompleteCasinoList Score: Real fun slot. The bonus feature is much like on Avalon and Katmandu. The record symbol substitues for a wild during free spins and you can win X6 on your free spins.

NUCLEAR 9
(This slot is available at all MICROGAMING Casinos.)

Last month's Atomic 8s has been superceded by this month's new Power Spins slot game, Nuclear 9s. Power Spins is a popular feature which is played across all paylines with an additional 3x the player's current line bet
Nuclear 9s - New Casino Games - 32Red Online Casino

Player can bet a little as 0.01 or as much as 10.00 per line, with a maximum bet of 90.00. This can yield a jackpot reward of over 50 000.00 coins in both the standard and Power Spins modes.

CompleteCasinoList Score: First Sonic 7 then Atomic 8 and now Nuclear 9..Whats the next one? :) Well this is pretty OK slot but no bonus feature and the payout seems to be of low variance.

Karate Pig
(This slot is available at all MICROGAMING Casinos.)

Come experience the amazing feats of a very special Japanese pig that has talents as a celebrated sushi chef, a fierce samurai, a musician, a karate champion and a philosopher! Karate Pig is a 5-Reel, 40-Payline Video Slot, with a pork-load of features including stacked Wild substitutes, a Free Spins and a Bonus scatter which triggers a Multi-Level Bonus Game.

CompleteCasinoList Score: Well, we played this one for over one hour in fun mode and we never made it to the Karate Pig feature. We hit the free spins several times. Video of one of the free spin rounds here... We simply had to give up getting the Karate Pig Feature..

CompleteCasinoList Score: Nice graphics and the cinematic spins aint as annoying as on the LOTR game. The Batman and Joker featuers happens frequently but they dont pay that much. It can be a little annoying to wait for the Joker to run in and you win your half bet size. We kind of got the feeling that this slot pays out a little less then usual slots because its saving up the jackpots.
Dark Knight
(This slot is available at all MICROGAMING Casinos.)

Replacing The Lord of The Rings slot, The Dark Knight also have cinematic spins just like LOTR did. It is possible to turn off the cinematic spins if you want. This slot also have a huge JACKPOT and several features; free spin feature, batman and joker feature.


CompleteCasinoList Score: We played forever and forever to hit the free spins. Finally we hit them and they paid pretty well. The graphics in this game is pretty amazing. The images are very beautiful. The free spin feature is good. You can also get the entire wheel wilds if you collect up 4 wilds. But during normal play you dont win that much on this one. So better have a nice bankroll to start with here so you be sure you hit the features.
Untamed Wolf Pack
(This slot is available at all MICROGAMING Casinos.)

Another Untamed game after Untamed Bengal Tiger and Untamed Giant Panda. Now its the Wolf Pack - its just the same game as the two earlier Untamed games excpept for a change in the free spin round. During the free spin round each wheel get more and more free spin symbols.
This is what Microgaming calls "Running Wilds".

CompleteCasinoList Score: Interesting game.. this is not a usual slot game but more of a shoot em up. At the end of level one we hit the "free rockets". We didnt play this one for more then one level.
Max Damage
(This slot is available at all MICROGAMING Casinos.)

MAX DAMAGE - Shoot em up arcade slot with many levels.

Arcade action meets slots payouts on Max Damage and the Alien Attack - a revolutionary new game!

Advance through 9 exciting levels
Collect boosters & upgrades
Win up to 110,000 coins!