Last Updated SEPTEMBER 2020 - Free Chip list is back in business with updated links and codes! Note that free chips are for new players only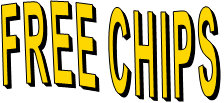 Free Chips and Free Spins! * Listed in No special order - No deposit offers * Note that some of these offers may have expired

18+Only. Play Responsible. Gamble Aware.
Lucky Tiger
NEW
USA OK

Added: September 24, 2020
Expires: No expiry date
Software: RTG
Link: $40 Free (Bonus code TOPSECRET40)
18+Only! Gamble Responsible.
Terms and Conditions apply. BeGambleAware.
Wagering: 50x
Maximum Cashout $100

Explosino
NEW

Added: August 28. 2020
Expires: No expiry date
Software: Various
Link: 20 free spins for registration on Lucha Maniacs
18+Only! Gamble Responsibly.
Terms and Conditions apply. BeGambleAware.
Wagering: 40x
Maximum Cashout: €50

BetRocker
NEW

Added: August 11. 2020
Expires: No expiry date
Software: Various
Link: 50 Free Spins on "Vegas Wins" (Bonus code: CCL50ROCK)
18+Only! Gamble Responsible.
Terms and Conditions apply. BeGambleAware.
Only for: Austria, Australia, Canada, Finland, Germany, Ireland, Mexico, New Zealand, Norway, Switzerland
Wagering: 99x
Maximum Cashout: €30

WinOwn
NEW

Added: August 11. 2020
Expires: No expiry date
Software: Various
Link: 50 Free Spins on "Booming Bananas" (Bonus code: CCL50WIN)
18+Only! Gamble Responsible.
Terms and Conditions apply. BeGambleAware.
Only for: Austria, Australia, Canada, Finland, Germany, Ireland, Mexico, New Zealand, Norway, Switzerland
Wagering: 99x
Maximum Cashout: €30

WinnerzOn
NEW

Added: August 11. 2020
Expires: No expiry date
Software: Various
Link: 50 Free Spins on "Big Apple Wins" (Bonus code: CCL50WNZO)
18+Only! Gamble Responsible.
Terms and Conditions apply. BeGambleAware.
Only for: Austria, Australia, Canada, Finland, Germany, Ireland, Mexico, New Zealand, Norway, Switzerland
Wagering: 99x
Maximum Cashout: €30

1MyBet
NEW

Added: August 11. 2020
Expires: No expiry date
Software: Various
Link: 50 Free Spins on "Big Apple Wins" (Bonus code: CCL501MB)
18+Only! Gamble Responsible.
Terms and Conditions apply. BeGambleAware.
Only for: Austria, Australia, Canada, Finland, Germany, Ireland, Mexico, New Zealand, Norway, Switzerland
Wagering: 99x
Maximum Cashout: €30

CyberSpins
NEW
USA OK

Added: July 08. 2020
Expires: No expiry date
Software: Rival, BetSoftGaming
Link: 10 Free Spins on Break the Bank
18+Only! Gamble Responsible.
Terms and Conditions apply. BeGambleAware.
Wagering: 99x
Maximum Cashout: $100

Grand Rush
NEW
Australia/NZ ONLY

Added: May 20. 2020
Expires: No expiry date
Software: RTG
Link: 60 Free spins on Double Trouble (Bonus code DOUBLESPINS)
18+Only! Gamble Responsible.
Terms and Conditions apply. BeGambleAware.
Wagering: 50x
Maximum Cashout: $100

Wild Joker
NEW
Australia/NZ ONLY

Added: May 20. 2020
Expires: No expiry date
Software: RTG
Link: 50 Free Spins on Diamond Fiesta (Bonus code FIESTAFREE)
18+Only! Gamble Responsible.
Terms and Conditions apply. BeGambleAware.
Wagering: 25x
Maximum Cashout: $100

Red Stag
NEW
USA OK

Added: May 17. 2020
Expires: No expiry date
Software: WGS
Link: $15Free (Bonus code RS15)
18+Only! Gamble Responsible.
Terms and Conditions apply. BeGambleAware.
Wagering: 40x
Maximum Cashout: $160

Fair Go Casino
NEW
USA OK

Added: May 17. 2020
Expires: No expiry date
Software: RTG
Link: 20 Freespins (Bonus code MARIACHI-20)
18+Only! Gamble Responsible.
Terms and Conditions apply. BeGambleAware.
Wagering: 30x
Maximum Cashout X5 The winnings of your freepsins

Uptown Pokies
NEW
USA OK

Added: May 17. 2020
Expires: No expiry date
Software: RTG
Link: $20 Free (Bonus code POKIES20FREE)
18+Only! Gamble Responsible.
Terms and Conditions apply. BeGambleAware.
Wagering: 50x
Maximum Cashout $200

Juicy Vegas
NEW
USA OK

Added: April 27. 2020
Expires: No expiry date
Software: RTG
Link: 50 Free Spins on Mermaid Pearl (Bonus code SPLASH)
18+Only! Gamble Responsible.
Terms and Conditions apply. BeGambleAware.
Wagering: 45x
Maximum Cashout $100

Red Dog Casino
NEW
USA OK

Added: April 26. 2020
Expires: No expiry date
Software: RTG
Link: $25 Free (Bonus code 25GIFT)
18+Only! Gamble Responsible.
Terms and Conditions apply. BeGambleAware.
Wagering: 50x
Maximum Cashout $75
Max bet when playing with bonus is €10

El Royale
NEW
USA OK

Added: April 26. 2020
Expires: No expiry date
Software: RTG
Link: $10 Free (Bonus code ELPLAY)
18+Only! Gamble Responsible.
Terms and Conditions apply. BeGambleAware.
Wagering: 50x
Maximum Cashout $30
Max bet when playing with bonus is €10

Aussie Play
NEW
USA OK

Added: April 26. 2020
Expires: No expiry date
Software: RTG
Link: 30Freespins (Bonus code 30PEARLS)
18+Only! Gamble Responsible.
Terms and Conditions apply. BeGambleAware.
Wagering: 50x
Maximum Cashout $90
Max bet when playing with bonus is €10

Slots Empire
NEW
USA OK

Added: April 26. 2020
Expires: No expiry date
Software: RTG
Link: 20Freespins (Bonus code 20JUNGLE)
18+Only! Gamble Responsible.
Terms and Conditions apply. BeGambleAware.
Wagering: 50x
The payout limit for no deposit bonuses is either 3 (three) times
the initial bonus amount/free spins number or $150; whichever is lower.
Max bet when playing with bonus is €10

Rich Palms
NEW
USA OK

Added: April 25. 2020
Expires: No expiry date
Software: RTG
Link: $30 Free (Bonus code STORM30)
18+Only! Gamble Responsible.
Terms and Conditions apply. BeGambleAware.
Wagering: 50x
Maximum Cashout $50

Slots Capital
NEW
USA OK

Added: April 25. 2020
Expires: No expiry date
Software: Rival
Link: 50 Free Spins
18+Only! Gamble Responsible.
Terms and Conditions apply. BeGambleAware.
Wagering: 40x
Maximum Cashout $50

Desert Nights
NEW
USA OK

Added: April 25. 2020
Expires: No expiry date
Software: Rival
Link: $20Free
18+Only! Gamble Responsible.
Terms and Conditions apply. BeGambleAware.
Wagering: 40x
Maximum Cashout $50

Box24
NEW
USA OK

Added: April 25. 2020
Expires: No expiry date
Software: Pragmatic Play, Betsoft, Vivo, ViG, Octupus Gaming, IGTech
Link: 25 Free Spins on Signup
18+Only! Gamble Responsible.
Terms and Conditions apply. BeGambleAware.
Wagering: 20x winnings of free spins
Maximum Cashout $100

Black Diamond
NEW
USA OK

Added: April 25. 2020
Expires: No expiry date
Software: Pragmatic Play, Betsoft, Vivo, ViG, Octupus Gaming, IGTech
Link: 25 Free Spins on Signup
18+Only! Gamble Responsible.
Terms and Conditions apply. BeGambleAware.
Wagering: 20x winnings of free spins
Maximum Cashout $100

Spartan Slots
NEW
USA OK

Added: April 25. 2020
Expires: No expiry date
Software: Pragmatic Play, Betsoft, Vivo, ViG, Octupus Gaming, IGTech
Link: 25 Free Spins on Signup
18+Only! Gamble Responsible.
Terms and Conditions apply. BeGambleAware.
Wagering: 20x winnings of free spins
Maximum Cashout $100

Spinfinity
NEW
USA OK

Added: April 15. 2020
Expires: 31.May 2020
Software: RTG
Link: 30 FREE SPINS (Bonus code: 30SPINS)
18+Only! Gamble Responsible
Terms and Conditions apply. BeGambleAware.
Wagering: 40x
Maximum cashout: $200
Max bet when playing with bonus is €10

24VIP Casino
USA OK

Added: April 15. 2020
Expires: No expiry date
Software: Rival
Link: $25 Free
18+Only! Gamble Responsible
Terms and Conditions apply. BeGambleAware.
Wagering: 50x
Maximum cashout: $50

Superior Casino
USA OK

Added: April 15. 2020
Expires: No expiry date
Software: Rival
Link: $25 Free
18+Only! Gamble Responsible
Terms and Conditions apply. BeGambleAware.
Wagering: 50x
Maximum cashout: $50

888Tiger Casino
USA OK

Added: April 15. 2020
Expires: No expiry date
Software: Rival
Link: $25 Free
18+Only! Gamble Responsible
Terms and Conditions apply. BeGambleAware.
Wagering: 50x
Maximum cashout: $50