Ararat Gold ( Ararat-gold.com , CASINO AG ) . They claim to have games from NetEnt, Microgaming, Amatic, EGT, Novomatic, Merkur and more. Ararat Gold accept payments in Bitcoin, USD, Euro, Polish Zloty, Indian Rupee and Russian Rubles. Time to do a check for Pirated Games at Ararat Gold
DISCONTINUED TITLES
We did find some discontinued titles like "South Park". NetEnt have removed these games. So they should not be availble anylonger.
GAMES HOSTED ON "CASINOMOBULE.COM"
When checking the server of "Dead or Alive II" from Net Entertainment we see its hosted on casinomobule.com. This is not a server from NetEnt but a PIRATE SERVER. NetEnt's official server is casinomodule.com. (module instead of mobule as the pirated server uses).

OWNERS OF ARARAT GOLD
For their company Best Win B.V. We do not find any information about that company. When searching in the Curacao company register we do not find any company with such a name registered. Their Affiliate program is Good Affelas ( https://goodaffelas.com/ ).
LICENSE
License is made to Best Win B.V., Heelsumstraat 51, Curacao. 8031/JAZ
Link to their so called license is https://validator.antillephones.org/validate?domain=ararat.gold&seal_id=237fd182b73e8fdb7b58019826bd35f0ab9962e2f7d2702e48986d96678c93a8a9370aac35ccd876403a060cc8b0eaa2&stamp=1b2e096fac95d789c7d5cd28781ec34d
The Antillephone License Validation do use a .COM domain. ( Owners: http://www.e-commercepark.com ) Ararat-Gold uses "Antillephones.ORG " which is a FAKE DOMAIN AND FAKE PAGE).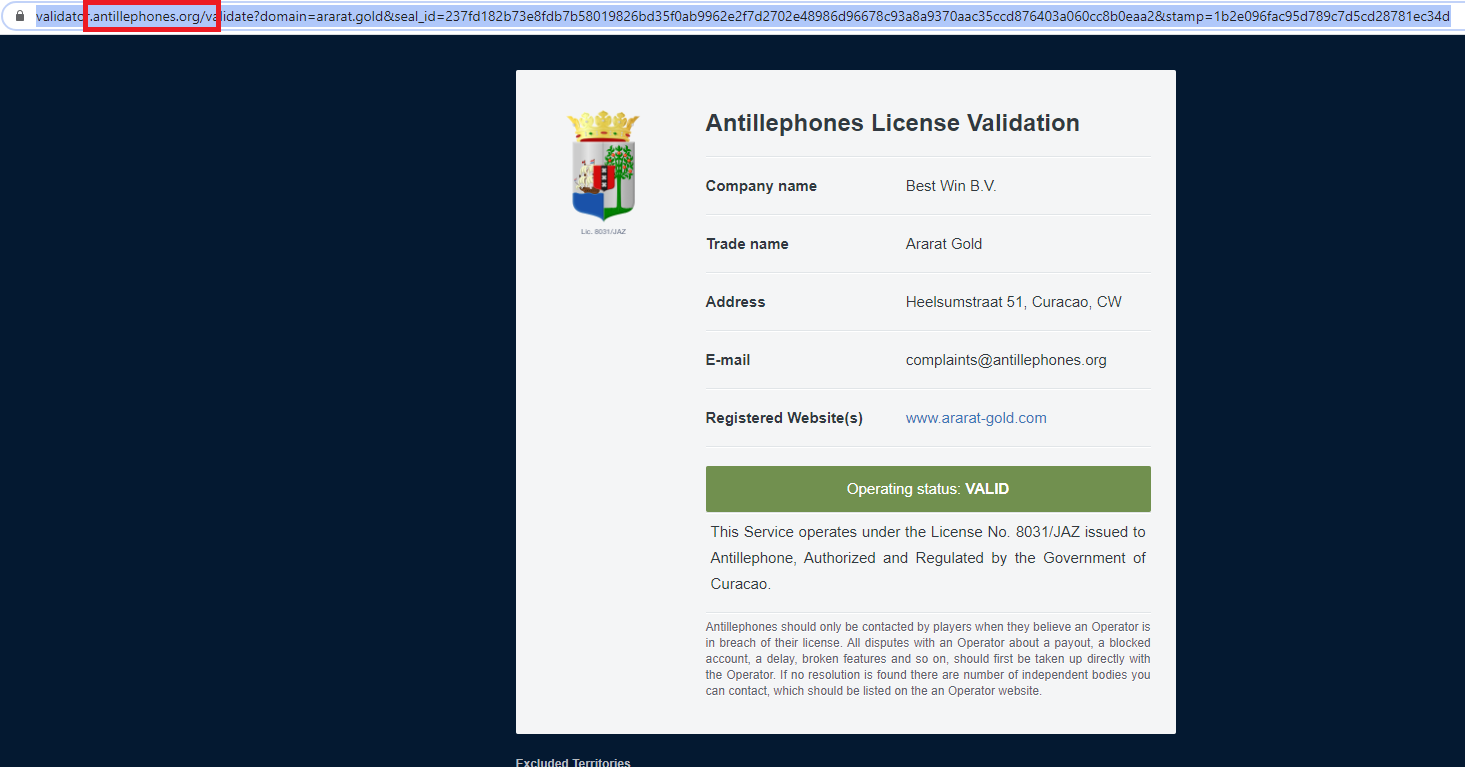 CONCLUSION
They DO NOT have any company. The games are PIRATED. Their license is FAKED. Do not play at this casino!
Pirated Games at Ararat Gold added to our BLACKLISTED CASINOS