Fruit Machine Tips: Use Your Skill
Fruit machines, although based in some part on slot machine engines, also include an element of skill, where players can influence the outcome of a spin. As you play look for unique fruit machine features like "nudges" and "holds" that can be randomly awarded or as part of a prize.

"Nudge" allows the player to move a selected reel down one position. This ability means a player can manually move a symbol into the payline to complete it and to trigger a player win. "Holds" permit the player to freeze a number of reels on the next spin and therefore increase the chances of lining up symbols on the following spin.

When using nudges and holds it's worth considering the trail numbers that feature on some symbols (normally a small number on the bottom of the symbol) that when accumulated trigger the trail bonus. The trail is a free shot at the jackpot and can lead to a host of other coin-winning features being won. Therefore, our biggest fruit machine tip is that players use features to maximum effect by lining up symbol wins or to trigger the trail. Tip: balance potential reel wins with the possible rewards of triggering the trail when nudging or holding the reels.

Nudges and holds can sometimes be banked and used on the next spin or repeated randomly, allowing players to use tincrease the possibility of triggering the trail or completing winning symbol combinations. Remember: it is random and there is no guarantee that they will be banked or repeated, but it is worth the risk if there is no possibility of either lining up a reel win or activating the trail.





Microgaming Fruit Slots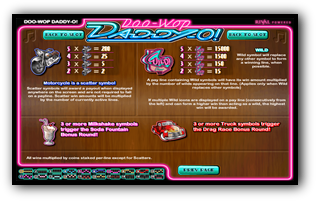 BILLION DOLLAR GRAN
(This slot is available at all MICROGAMING Casinos.)




BINGO BANGO BOOM
(This slot is available at all MICROGAMING Casinos.)
Load Bingo Bango Bonus and enjoy 3 reel and single payline online slot action with the added bonus of fruit machine features, like nudges and holds. Use the latter wisely to build symbol combinations across the reels for big multiplier bonuses. Look out for cherries, lemons, 7s, BARs and the all-important Bingo Bango Boom jackpot logo – 3 of these and you'll be laughing all the way to the bank with a massive x500 multiplier bonus.



The Bingo Bango Boom bonus game is simple and generous, with players guaranteed a great prize as soon as it's triggered. Simply sit back, watch the balls being drawn and the numbers called, your bingo card will then automatically daubed for you. Get three of the numbers under the prize name and you'll win it. It's a simple as that! And with a shot at that big x500 included in the bonus game the Bingo Bango Boom bonus is something you'll want to trigger all the time! But wait, there's an even bigger jackpot in the bonus games. Win the Bingo Bango Boom in bingo bonus game and you could win up to a staggering x3000 your bet. So if you play on max bet of £10 per game, you could win up to £300,000!



CASH N CURRY
(This slot is available at all MICROGAMING Casinos.)
Cash n Curry is a wonderfully drawn and made game, both rich in colour and sound. And with spins costing 10p a pop(padom), this game will give you more game play for your money. All in all, this tasty dish is pleasing to the eye and ear, as well as your wallet.

Based on an Indian cuisine theme, this great game comes with a huge maximum payout of £20,000! A mouth watering, eye stinging amount for any online fruit machine. Also look out for chilli peppers, bhaji's, Rogan Dosh, Vindaloot and many more Indian food (puns) served up on the spinning reels. The Curry go Round may even dish out a x500 multiplier on to your winnings!



CHAVIN' IT LARGE
(This slot is available at all MICROGAMING Casinos.)
This hilarious online fruit machine is based on the antics and paraphernalia of the shopping centre dwelling, illiterate, Burberry clad members of British society. For once, however, Chavs are actually useful. This game is fun, funny and generous. So get stuck into this top fruit machine by clicking on the image below to play instantly.

Well drawn and fantastically put together, this traditional pub fruit machine will keep you entertained for days. Plus the bonuses and great features mean you have a great chance of landing the maximum payout.

Three trainer symbols on three consecutive spins will launch the bonus, which, if completed, can result in your winnings being multiplied by up to 250 times! Also in this casino game is a top nudge feature, which serperates it from the average online fruit machine. You can be awarded up to 4 nudges at once, meaning you're more likely than ever to complete a winning payline. However, the nudges are awarded at random.

Also included in this great game is the ability to hold a reel on the next spin, but like the nudge, it is awarded randomly. However, its a great way of getting more out of your next spin. So use it wisely...



COPS AND ROBBERS
(This slot is available at all MICROGAMING Casinos.)
Like most online fruit machines, Cops and Robbers is based on the combination of a 3 reel slot engine and a trail bonus game. Throughout the player will have to use a mix of skill with luck in selector and stop/go style bonus rewards to battle their way towards the Cops and Robbers jackpot of a x500 multiplier. That equates to £70,000 on max bet!


Trigger the trail by aligning 3 swag bags across the reels and before you know it you'll be travelling over 36 unique options and features. With a bit of luck you'll be hitting features like "It's a fair cop", "Ello, ello, ello" and many more – all mean multiplier and coin payouts for you.

Enjoy the thrill of the chase as you blitz around the bonus trail trying to keep one step in front of the law. You'll progress around the board to reveal big multiplier prizes, nudges, cash boosters and more, but be sure not to get nabbed by the boys in blue - you could lose your hard-earned swag! So keep your eyes open and pray your luck and skill holds until you're satisfied with your plunder. Cash out to go back to the reels for even more Cops and Robbers fun.



DEEP SEA DOSH
(This slot is available at all MICROGAMING Casinos.)
The theme is set to a mythical underwater adventure, complete with Neptune, mermaids and an array of undersea characters and symbols, including fruits, crabs, fish and clams. Just line up any of the Deep Sea Dosh symbols across the games 3 reels and single payline and you'll be "squids in", with prizes of up to x500 available with three Neptunes. That's a possible £50,000 on max bet!



But even bigger winnings are available in the Deep Sea Dosh bonus game. Triggered randomly, every spin of the reels could result in this amazing cash winning extravaganza. If you know Deal or no Deal you may recognise the format. The screen is full of treasure chests connected to multiplier bonuses. One of them is yours. In time all the treasure chests begin to disappear taking with them the chance of the multiplier bonuses displayed. Depending on when you stop you will be offered a multiplier that takes into account the remaining bonuses. Take it too early and you risk not getting as much you could have done by waiting. Wait too late and a big multiplier bonus could disappear and the subsequent bonus you're offered is substantially less than it was. You could of course rely on fate and just settle for the chest that fate dealt you – the choice is yours, but with a x600 multiplier bonus up for grabs, you'll be on the edge of your seat!



DUBYA MONEY
(This slot is available at all MICROGAMING Casinos.)
Dubya Money centres on the exploits of everyone's favourite President, the leader of the remaining super power, George W Bush. Nudge, hold and spin yourself to a fortune in the Texas oilfields bonus game, in this top online fruit machine. Sound good? Well, it gets better. No download is needed to play Dubya Money as its one of our great instant-play games. Simply click on the game logo below to start playing now.


Dubya Money is not a slot machine where you spin, spin and spin alone. Included are nudges and holds, which actually allow you to control the reels by stopping them or moving them forward on command. Yes, you can actually turn the reels to guarantee that you complete a winning payline! What's more, you can actually bank some of the holds to use when you've lined up the big multiplier symbols.

The game centres on Bush's oil rich past, with a bonus game that underpins the growth of you own wealth too. Progress along the boardgame-like trail until you reach number 7. Then it's off to the oil wells and a stop game. From here there are a number of generous awards waiting for you...



FIRE AND DICE
(This slot is available at all MICROGAMING Casinos.)
Fire n Dice is a fruit machine classic. No complicated trail features, just great reel wins and big bonuses. All of which is backed up by amazing graphics and a complete stereo sound package that will make every spin and a "reel" pleasure. Only three symbols adorn the reels: cherries, BARs and 7's. Any three identical symbols across the game's single payline will trigger the Dice Spins bonus game and will result in a welcome boost to your casino balance.



Dice Spins are Fire n Ice's win spins. Acting the same way as win spins, the bonus game has separate reels on which each spin is guaranteed a payout. With a bit of luck you can hit the Fire n Ice fruit machine's massive jackpot and net a cool x500 multiplier. Dice Spins begin with just three cherries which will trigger 5 spins. Three BARs will trigger 15 and the 7s a fantastic 50 dice spins.



Recommended Microgaming Casinos:
HIPHIPOPOTAMUS
(This slot is available at all MICROGAMING Casinos.)
HipHopoPotamus is no shrinking violet. Decked from head to toe in gold and diamonds he's the perfect central character for what is the funkiest and brightest online fruit machine ever made. Superbly designed and backed up with top rap tunes and sounds, this game is a real treat on the eye and the ear. Not limited to looking good, HipHopoPotamus has a solid gaming engine running behind it too.

Like all fruit machines, HipHopoPotamus, involves an element of luck as well as skill, with a range of nudges, holds, banks and repeats available. All of which mean your destiny may well lie in your own hands. The reel game is simple, with just 3 reels and a single payline. Line up symbols across the payline and win. Line up the rarer symbols and win more (including the HipHopoPotamus symbol for the jackpot of a x550 multiplier).

However, the bigger, easier wins lie with the trail game. Simply collect 8 HipHopoPotamus points from the reels to trigger the game. From there use a mixture of skill on the "selecta" options and to proceed along the trail to even bigger wins or cash in and go back to the reels. A careful use of skill and luck could see you land the "HipHopoPotamus" jackpot – plus there are a host of other payout too (all with suitably funky names like "Busta Hippo" and "Rapper's Delight"!).



JAMAICAN-A FORTUNE
(This slot is available at all MICROGAMING Casinos.)
Jamaican-a-Fortune has been engineered to guarantee a fun fruit machine experience. Its bright artwork sets it apart from other casino games and its Reggae sounds accompany every fun-filled spin. Look for the Jamaican flag, cashbags, cherries and a lot more generous symbols as they spin into the single payline but, most of all, keep an eye out for the Rasta man. Line up three and bag that 500 multiplier bonus jackpot!

Jamaican-a-Fortune comes with all the bonuses, nudges, holds and repeaters you would expect from a game its calibre. The slot actions is in 3 reel, single payline format but the game is given enhanced depth with the addition and skillful use of nudges and holds. Nudges and holds are awarded randomly and can sometimes be banked by the machine if not used. Nudge a reel so that it rotates to the next symbol or hold reels while the rest spin and inrease your chances of completing winning combinations. Keep an eye on the small numbers on the reels. If these add up to 7 or greater then the Jamaican-a-Fortune trail game is triggered and you get a shot at some big winnings.

PUB FRUITY
(This slot is available at all MICROGAMING Casinos.)
Pub Fruity is a 3 reel, single payline online fruit machine that is both simple and generous. With Pub Fruity you not only get a classic fruit machine game but, if you land three dart symbols on the reels, also an amazing darts bonus game is triggered. Success here can be very rewarding, giving you an extra shot at the jackpot. However, huge payouts are guaranteed nonetheless!

Also watch out for the Pub Fruity drinks trail bonus game! Look for small numbers on symbols after each spin. The combined sum of the numbers will move you along the drinks trail the same number of spaces, potentially stopping on a prize. Prizes range from guaranteed wins, multiplier bonuses, all the way to the Pub Fruity jackpot! All in all, get lucky and Pub Fruity will payout 500 times your bet/stake.

With spins costing from a minimum of 10p Pub Fruity represents maximum fruit machine entertainment for your money. High rollers, however, can play at £10 a spin which would deliver an amazing £5,000 jackpot if hit! We're positive you won't find a pub fruit machine that gives you more than Pub Fruity delivers straight to your computer.



GAME ON
(This slot is available at all MICROGAMING Casinos.)
The glittering World Cup trophy is the game's top symbol and will reward you the maximum return on your bet. However, the serious money lies in lining up footballs. Get three in a payline or accumulate three in the bank, and you'll launch the Safari Soccer bonus trail game. Based on a skill shot, i.e.& "stop and win", stopping the shifting light at the right place could see your bet returned and multiplied a 1000 times! That's enough cash to rival some of the most highly paid football players.


SKI BUNNY
(This slot is available at all MICROGAMING Casinos.)




WHO WANTS TO BE A STALLIONAIRE
(This slot is available at all MICROGAMING Casinos.)
Spread over the reels are symbols like furlongs, BAR's, jockey uniforms and big luxury cars - the typical equestrian millionaires lifestyles. Like our Stallionaire, it could be you smoking the Cuban cigar if you line up the yellow car symbol. As the jackpot it will multiply your bet by 500 times!

The centre to every horses' life (rich or poor), horseshoes will allow you to move onto the trail bonus game and to a vertible array of top multiplier prizes. Simply line up three different types of horseshoe, either bronze, silver or gold in a row and progress to the special game and to where all the big money awaits you.

Like all good fruit machines, Who Wants to be a Stallionaire includes nudges and holds. Use them wisely to actually move or hold certain reels to help you complete winning paylines. These are awarded randomly and can really make a huge difference to how much you win - neigh bother!



WINNING WHEELS
(This slot is available at all MICROGAMING Casinos.)




YOU LUCKY BASTARD
(This slot is available at all MICROGAMING Casinos.)
This generous game has a great, cash winning multiplier bonus feature that launches when "bar" filled paylines are completed on three consecutive spins. The simple illuminated ladder bonus screen displays various numbers which represent a multiplier. As the light passes from number to number press stop to reveal just how much the You Lucky Barstard machine will multiply your winnings by. Incredibly the multiplier can increase your winnings by up to 250 times the original amount! Not only that, the game will also randomly give you another chance at this bonus feature and can really lead to huge winnings.

As you play You Luky Barstard the machine will randomly award you nudges, allowing you to move a selected reel down one place. Ultimately, this means you can complete winning paylines more often and, naturally, get more cash too! Also, you can bank your nudges, saving them up until you're ready to land the jackpot.



TRACK AND FIELD MOUSE
(This slot is available at all MICROGAMING Casinos.)