FAKE casino portal CASINOMIR ( Casinomir.com ) is added to our Blacklisted Casinos. After recieving several mails from players located in United Kingdom that had problems getting their withdrawals we decided to add CasinoMir portal to the blacklist. Usually we do not add portals there, only casinos, but since CasinoMir is notorious and have been doing this for years now we make an exception for them.
Most of the casinos they promote offer high bonuses, which trick new players to register with them. But 90% of the brands they have at their site are scam casinos with pirated games and no gaming license.
PIRATED SLOTS

Pirated Slots are when games get ripped from the game providers and put on various gaming servers (usually in Russia). Since the slots are pirated, they can also be rigged, the Return to Player can be adjusted etc.
As top casinos at the moment they do at the moment have listed following brands; "Golden Axe", "Agent Spins", "Prestige Spins", "Cyber Casino 3077", "Harry's", "Ocean Breeze", "Cobra Spins", "The Red Lion", "24Monaco", "Lady Aida". Many of these brands do have pirated games.
24Monaco.com have no license and fake games as we wrote in a an article earlier.
CobraSpins.com, Cybercasino3077.com, Playatharrys.com and TheRedLionCasino.com all have fake games and are connected to 24Monaco.com.
Oceanbreezecasino.com is connected to another network of pirated sites ( Which include WPokies, Sloty Mr.Sloty and more).
AgentSpins.com is run by Prism Marketing that have ties to the Affpower brands.
PrestigeSpins.com do not show any valid license and games are pirated.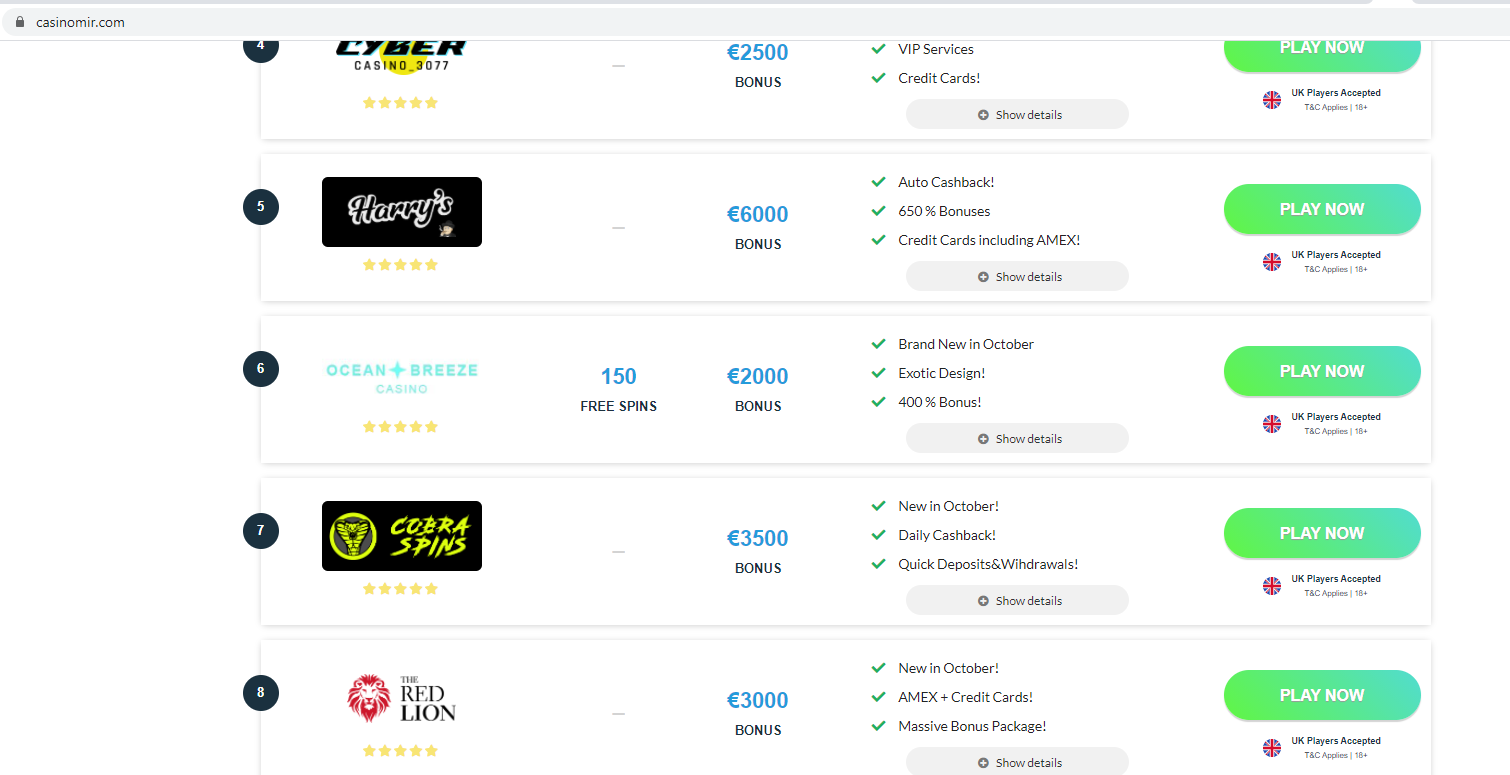 NO UK LICENSE
Casinomir.com write at their site;
"One of the first, and most important, things that we take into consideration when reviewing a site on Casinomir is to establish that it has a license from the UK Gambling Commission or if it's one of the so-called casinos not on Gamstop".
Fact is that zero of the casinos they list have a UK Gaming license.
– FAKE casino portal CASINOMIR – Be aware of that Casinomir.com is a scam portal.