UKGC partners with Facebook. The UK Gambling Commission released a PRESS RELEASE today about their new partnership with social media giant Facebook. The partnership is about guidance aimed at helping consumers limit gambling related adverts on the Facebook. Gambling adverts will still be allowed on Facebook, but the UKGC released a guide in coop with Facebook on how to adjust your account not to see these ads.
The features added to Facebook will help the users to block / prevent seeing Gambling adverts. This can be adjusted by the user.
That includes:
Hide ads – from their Newsfeed, users can control which ads they see to ensure they are relevant and utilise the 'Why am I seeing this ad?' feature to hide all ads from a specific advertiser.
Ad Preferences tool – the different sections within this feature enables users to review advertisers they have recently seen ads from, as well as choosing to see fewer ads about a number of pre-determined topics, and;
Managing data – using the above feature, users can control how their data is used to show ads on and off Facebook, including whether they can be targeted based on certain attributes listed in their profile.
Link to full Press Release: https://www.gamblingcommission.gov.uk/news-action-and-statistics/news/2020/Gambling-Commission-partners-with-Facebook-to-release-guidance-aimed-at-helping-consumers-limit-gambling-content.aspx
How to block Gambling related ads on FACEBOOK
Open MENU in the upper right corner of an ad and select HIDE AD.
From the same MENU you can select "Why am I seeing this ad?" Click hide all ads from this advertiser.
In AD PREFERENCES you can get further control over what kind of ads you will be shown.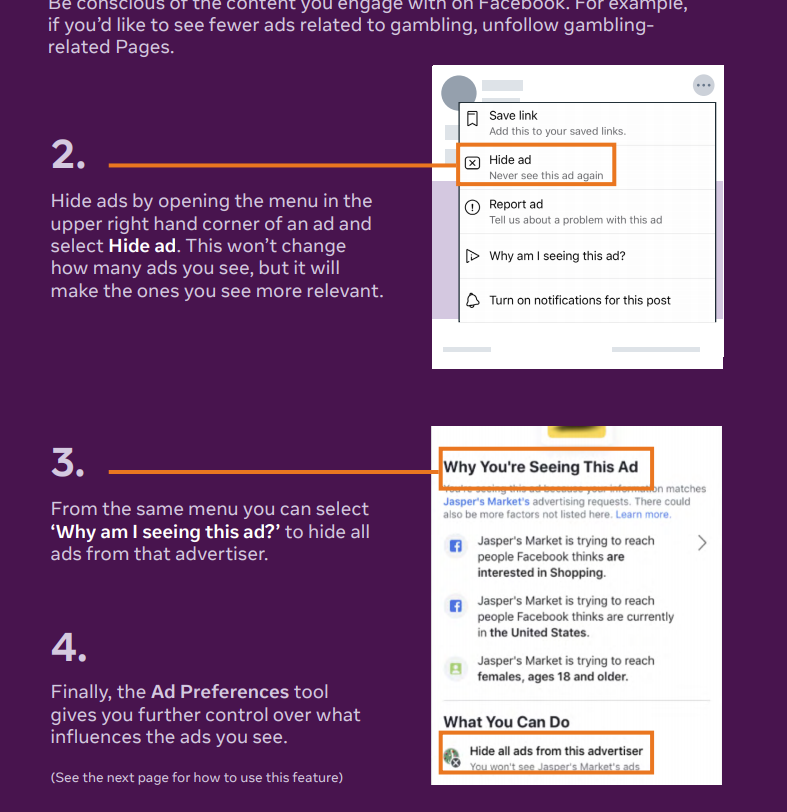 CHANGE AD PREFERENCES
Click the icon in the top right of Facebook.
2. Select Settings & Privacy > Settings.
3. Click Ads in the left sidebar.
4. On this "Your Ad Preferences" page, you can update your interests, choose what Facebook information is used to show you ads,
For the full instructions guide of how to block Gambling related ads check the guide released by The UK Gambling Commission in cooperation with Facebook;https://assets.ctfassets.net/j16ev64qyf6l/5a5dABWQyBtLsoTVOubj9Z/1ad6ca66385bd398b9dace029d4c78f7/Controlling_the_gambling_related_content_you_see_on_Facebook.pdf